Northumbria Police Information
Northumbria Police Information
20 May 2021 (by Alex Rutherford (a.rutherford))
County Lines information from Northumbria police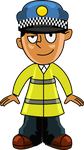 Have you heard of County Lines? Well it's a form of criminal activity in which drug dealers in major cities establish networks for the supply and sale of drugs to users in towns and rural areas, using other people (typically those who are young or otherwise vulnerable) to carry, store, and sell the drugs," police are urging people to look out for the signs of county lines drug dealing"
The goal is to help keep young people safe and prevent them from becoming victims of crime by delivering tailored, interactive learning sessions whilst also building a positive relationship with police.
Don't forget to look on our website for lots more useful information. Use the quick links on the dashboard to navigate directly to our site.