Enterprise
What is it?
Enterprise education equips pupils with a set of transferable practical skills which can be applied to all areas of life, and prepares them for the challenges that lie ahead. It is used as a driver to enrich the curriculum and as a vehicle for developing skills and characteristics that will be invaluable in the future.
Enterprise learning shows pupils how learning is applied to the world of work. Through site visits and visitors to school, pupils can see what they can do with skills, knowledge and the right attitude.
Enterprise learning is active and creative. The process of plan-do-review makes learning engaging, fun and develops pupil responsibility. It raises aspirations by exposing pupils to situations and positive role models that inspire them.
Aims
At Benton Dene School we aim to ensure enterprise is fun, engaging, develops skills and gives pupils ownership over their learning. We aim to create opportunities for our pupils to take the lead, take risks, make decisions and form links with the local community. Underpinning Enterprise Education are the 'Big 13' key skills:
-Teamwork
-Responsibility
-Negotiating and influencing
-Effective communication
-Creativity and Innovation
-Positive attitudes
-Organising and planning
-Financial literacy
-Ethical and economic judgements
-Leadership
-Decision making and Problem solving
-Taking risk and pursuing challenges
-Assessing and evaluating
Enterprise activities
There are three keys areas in which Enterprise Education is delivered:
1) A business enterprise which involves making and selling a product.
2) A community enterprise which involves organising an event or exhibition.
3) An environmental enterprise which can involve a campaign.
Class and whole school activities will involve:
Events

Selling

Displays of knowledge (assemblies, presentations etc.)

Campaigns

Contact with outside agencies

Visits to industries and businesses

Forging community links
Our Enterprise activities
The Climate Strategy
Blue 5 and 6 took part in the Climate Strategy Strand 2 at The Common Room in Newcastle. As a team, the children presented their ideas on how to tackle climate change to a group of judges who loved their idea of a mechanical boat, powered by solar panels that would collect plastic from the ocean. Each child played a crucial part in coming together to form a presentation to deliver to the judges. From diagrams, research, product designers to Lego building engineers, our teams came through. As a result of their amazing efforts, Benton Dene were the worthy Winners for their outstanding effort and were awarded the winning entry of North Tyneside Learning Trust's Climate Strategy.
In the autumn term all classes worked towards producing products to sell at Benton Dene's Christmas fayre. The pupils looked at a range of ideas for stalls at fayres and worked as class teams to decide what product or service they wanted to produce.
The pupils then explored how to advertise the fayre in different ways. Some of Blue zone created a video campaign that was then uploaded to our school website and twitter pages. Green zone created and distributed posters to raise local awareness of our Christmas fayre.
Blue 6 painted these fabulous paintings in the underpass at Cullercoats as part of an Enterprise project. They are there for everyone to see and we have had some lovely feedback from those who have seen them.
We made 'fidget cushions' for a care home in Killingworth.
Blue 6 created a video as part of their Enterprise project.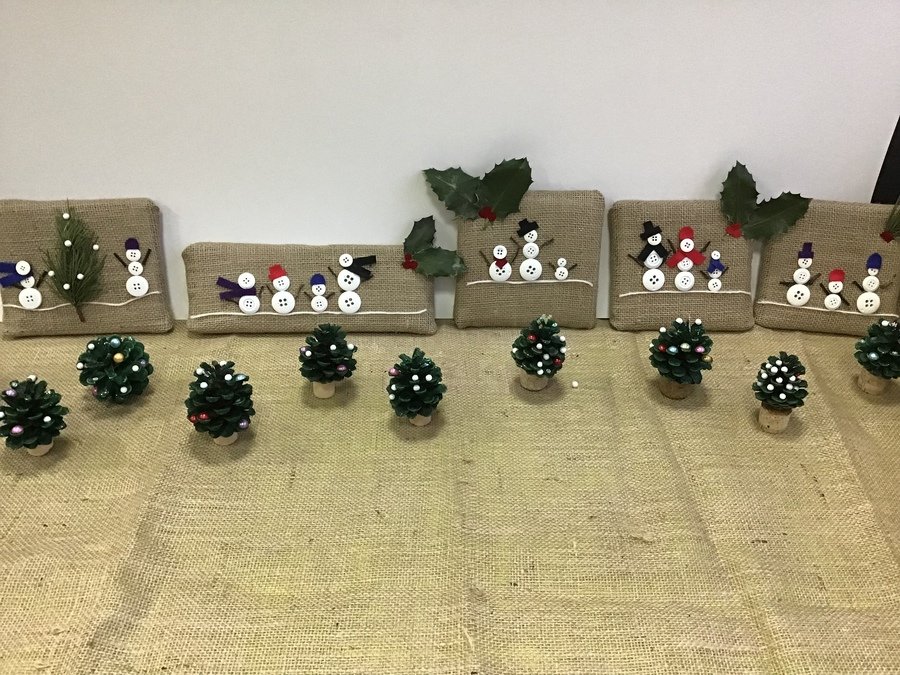 Take a look at Green 5's Enterprise project. They made their own Christmas candy canes. Pupils worked together to research plan and design how they wanted their enterprise project to look.